You want your kitchen to look stunning. Not only will the right kitchen cabinets achieve this, but it will also increase the value of your home. When choosing the right design there are a number of factors to take into consideration including the look you want, the size of your kitchen and your budget. Once you have these elements figured out, you will be able to find the right material to create stylish and functional kitchen cabinets. Let's take a look at the best material for kitchen cabinets and some of the pros and cons for each type so you can make the best choice for your home.
Melamine: Pros
Melamine kitchen cabinets have been one of the most popular choices with homeowners for years because they are so affordable. Made from pressed wood or plywood topped with hut fused melamine resin, these cabinets are stylish, affordable and always look great. They are also a large selection of colour options that give the look of authentic wood graining. Homeowners will also love how easy they are to maintain and keep clean.
Melamine: Cons
Melamine cabinets are often limited in shape options. They also can be easily scratched due to their soft resin coating. Homeowners should also keep in mind that their heavy weight can lead to sagging later on.
Polyester: Pros
Polyester kitchen cabinets are a blend of melamine and pine fibre. They are coated in a polyester film to give them a modern, sleek look. Polyester cabinets are scratch resistant and come in a large selection of colours and faux wood stain options.
Polyester:Cons
Polyester can be susceptible to scratching so it's important to be gentle with these cupboards as retouching can take a lot of work.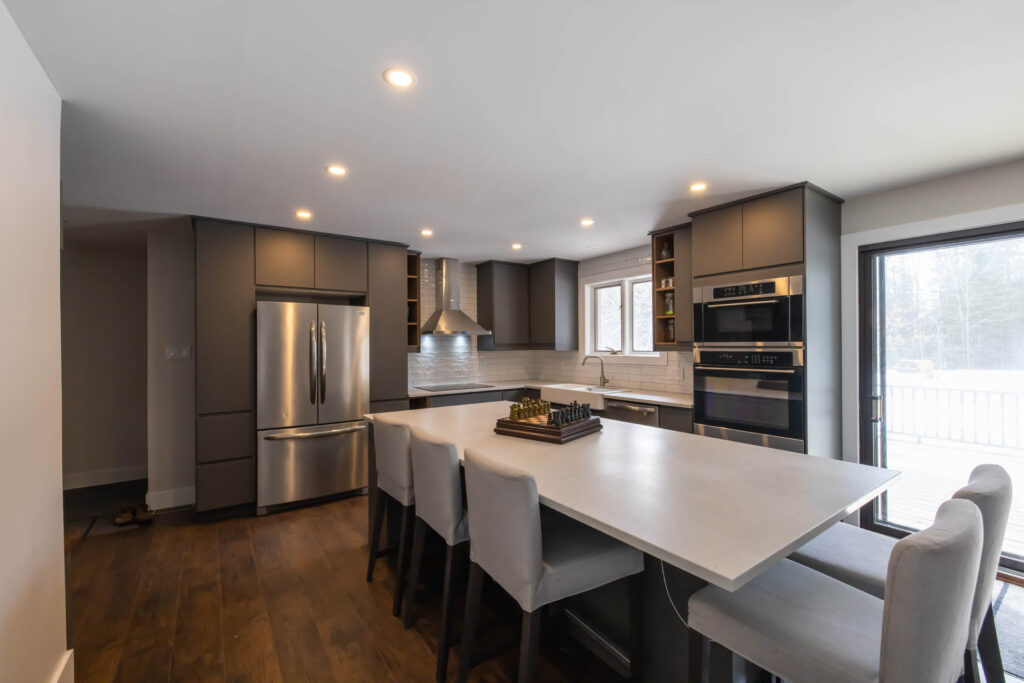 Solid Wood: Pros
Nothing gives a kitchen a more classic look than solid wood cabinets. Available in an elegant collection of colours and wood species like oak, birch, cherry, walnut, maple, knotty pine, hickory and more, solid wood allows you to create a kitchen that truly reflects your personality and style. Solid wood also allows you to customize the look of your kitchen and shape the cabinets to your taste.
Solid Wood: Cons
Solid wood is an investment and can cost more than other cabinet options. They can also warp over time due to humidity, so it's important to ensure your cabinets are regularly treated with a waterproof finish to protect them. Remember to always clean with non-abrasive products specifically designed for wood finishes.
Medium-Density Fiberboard (MDF): Pros
One of the best kitchen cabinet options is MDF. This versatile material is made from small particles of wood fibre coated in wax and resin. It is easy to paint and will not warp over time like traditional solid wood. Due to the large sizes available, it is easy to cut and shape so you can have a custom kitchen experience.
Medium-Density Fiberboard (MDF): Cons
MDF kitchen cabinets can not be sanded so be careful of scrapes and cuts. It also doesn't handle extreme temperatures well so it is recommended to have blinds or curtains in your kitchen to avoid prolonged exposure to high temperatures.
High Pressure Laminate: Pros
High-pressure laminate kitchen cabinets are impact resilient thanks to the multiple layers created during the manufacturing process. It is also resistant to scratches making them a great option for high-traffic kitchens. They are available in a large selection of colours and finishes are easy to keep clean.
High-Pressure Laminate: Cons
High-pressure laminate is more expensive than melamine, however, it's still a great investment and you will see a great ROI once your kitchen cabinets are complete.
What is the Best Material for Kitchen Cabinets?
Miracle Dream Homes can help you find the right cabinet material for your kitchen project. We review your design goals and provide you with helpful suggestions and professional installation so you can have the dream kitchen you always wanted. Contact us today for a consultation.