Your personal or family circumstances can change in an instant, requiring you to make adjustments to your living space to make it more accessible. This includes the bathroom, which can often be difficult to navigate when dealing with mobility issues. By making a few simple renovations, you can create a fully accessible bathroom that improves the quality of life and reduces the risk of injury. This may leave you wondering, 'How to make a bathroom handicap accessible?
You may also be wondering how to ensure that you are designing an accessible bathroom that meets the criteria for providing a fully functioning bathroom that provides the quality of life you or your family need. You likely also have concerns about creating a bathroom space that still matches your home's aesthetic and doesn't become too medical looking. Let's review some of the things you can do to create the perfect accessible bathroom design that is both stylish and functional.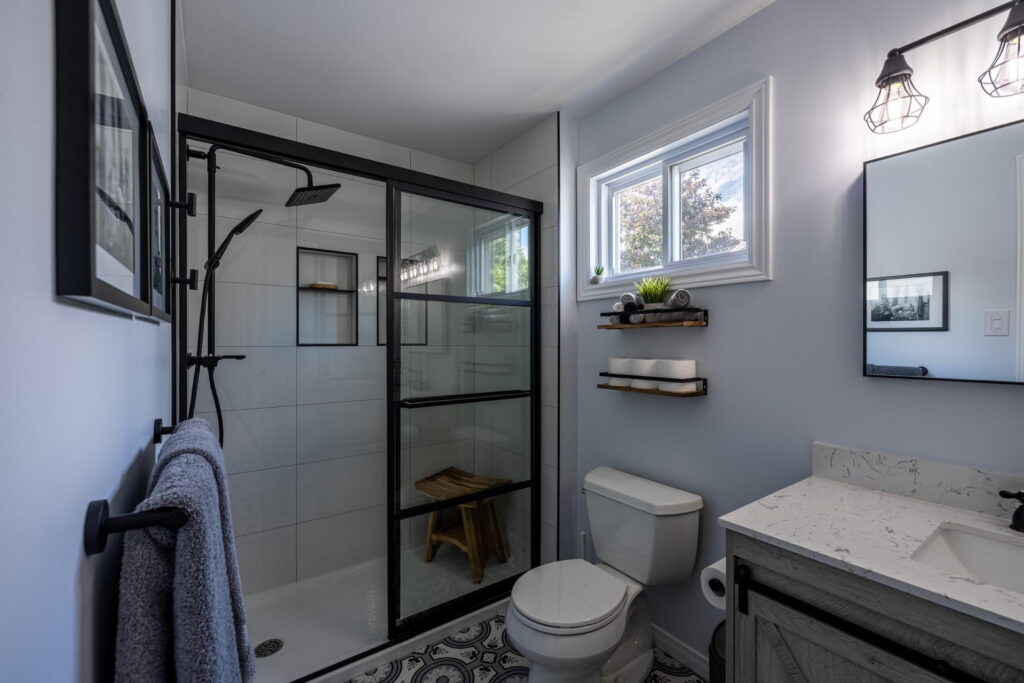 Expand The Entrance
One of the first steps to creating an accessible bathroom layout is understanding how much door space you are going to need, particularly if you have to make room for a wheelchair or other mobility device. An accessible bathroom layout should be able to accommodate a device with easy maneuverability both entering and leaving the bathroom.
This means an expanded door frame and improved placement of door handles. The person entering or exiting the bathroom should be able to easily reach and turn the bathroom door from their device without obstruction.
Remove Any Barriers
One of the most common handicap accessible bathroom requirements is the removal of any barriers. This will depend on the existing layout of your bathroom. Barriers can come in the form of obstacles that hinder movement, barriers to access that prevent a person from using a bathroom, such as switches that are too high, or a vanity that impedes movement.
Review the needs of the person who requires assistance to identify what areas of your bathroom may be difficult to navigate and make adjustments to design an accessible bathroom.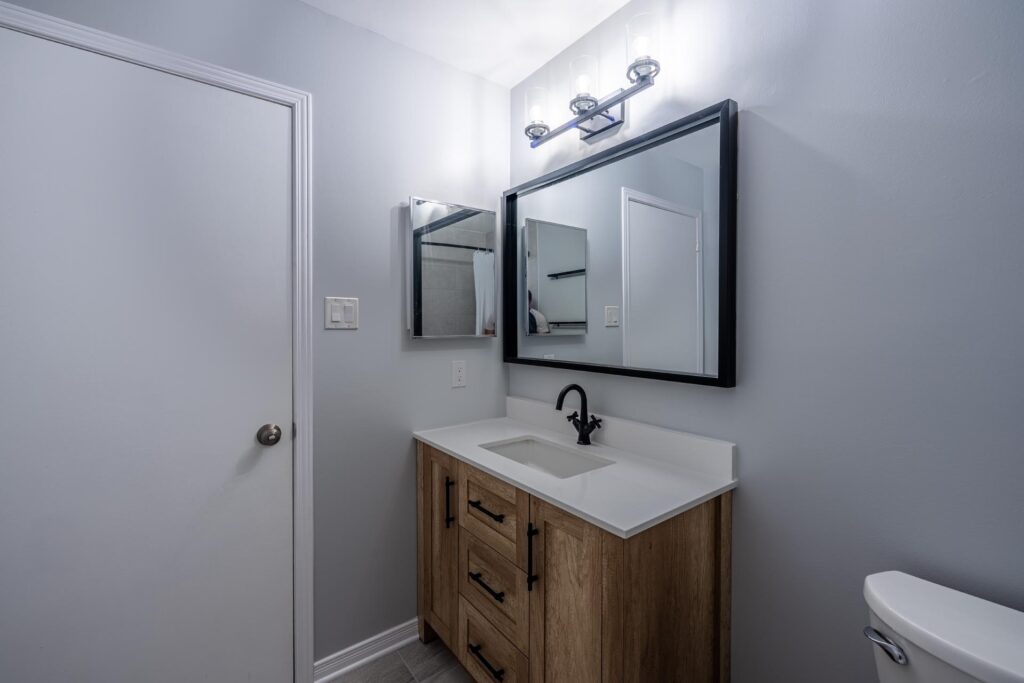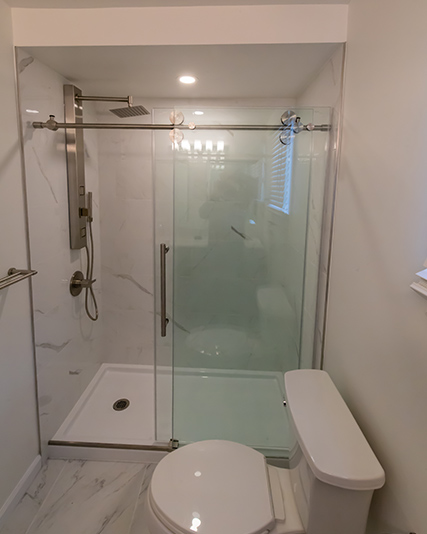 Make Your Bathroom A Wet Room
The most significant challenge for people with mobility issues is often the tub and shower. Getting in and out of a bathtub can pose a tripping or falling risk. It can also be tricky to navigate shower curtains or large glass shower doors, particularly when they are wet.
This can be eliminated by turning your bathroom into a 'wet room'. This means the installation of tile throughout the floor space and removing the tub to create an easy-to-access shower. This makes bathing easier and safer for those with mild to severe mobility issues.
Curbless Shower Stall and Handicap Shower Bench
A wet room may not suit your bathroom design or budget, so an alternative is to make an adjustment to your bathtub to allow for easy access. This can mean the installation of a curbless shower stall or a handicap shower bench.
This allows the user to safely enter and exit the shower, as well as a comfortable seat to avoid falls or accidents. Your renovation expert will be able to help you find the right size and shape for your bathroom.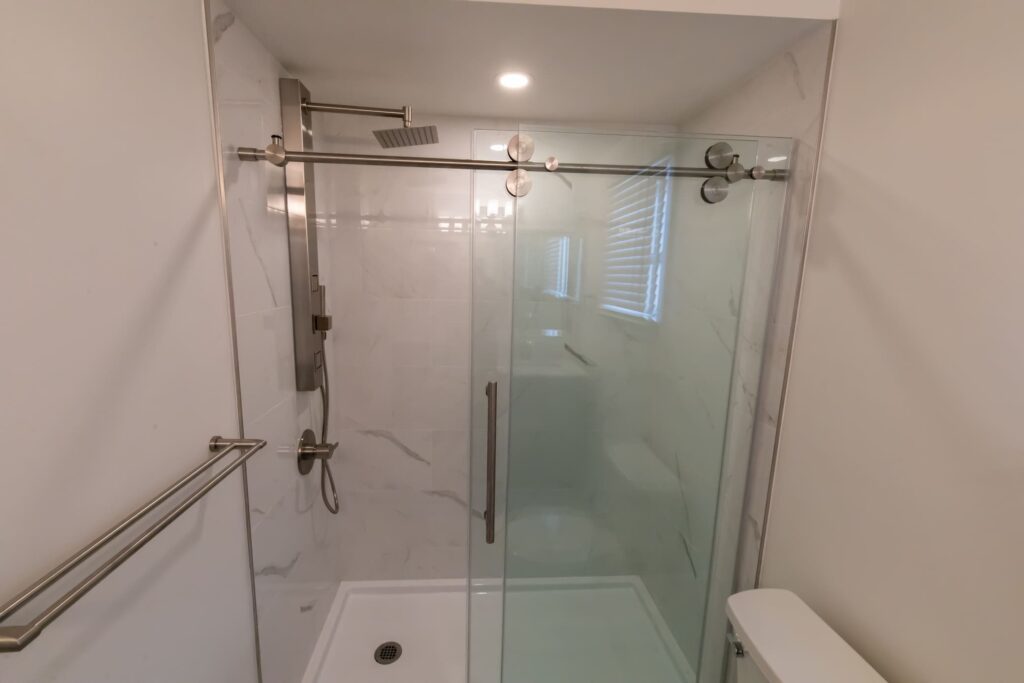 Install A Walk In Bathtub
A bathtub can be adjusted to accommodate those who require easier access. Your renovation expert can make a cut into the side of the tub to allow for easy step-in, without taking away the ability to have a bath for others in your home.
This is a great feature that not only improves the functionality of your bathroom, but can even add value to your home.
Make Height Adjustments
Requiring a mobility device creates a new perspective for people navigating the bathroom. Accessories like faucets, lights, and cabinets quickly become out of reach.
Making height adjustments to your accessible bathroom remodel means users can enjoy unobstructed access to bathroom amenities and navigate the bathroom more safely.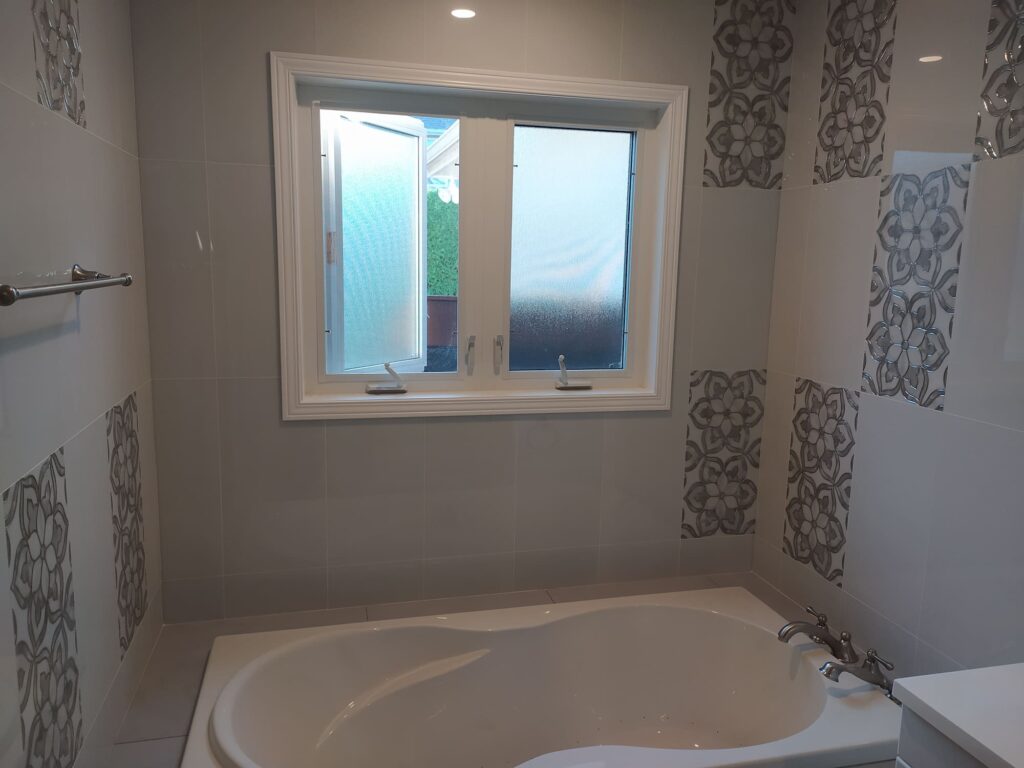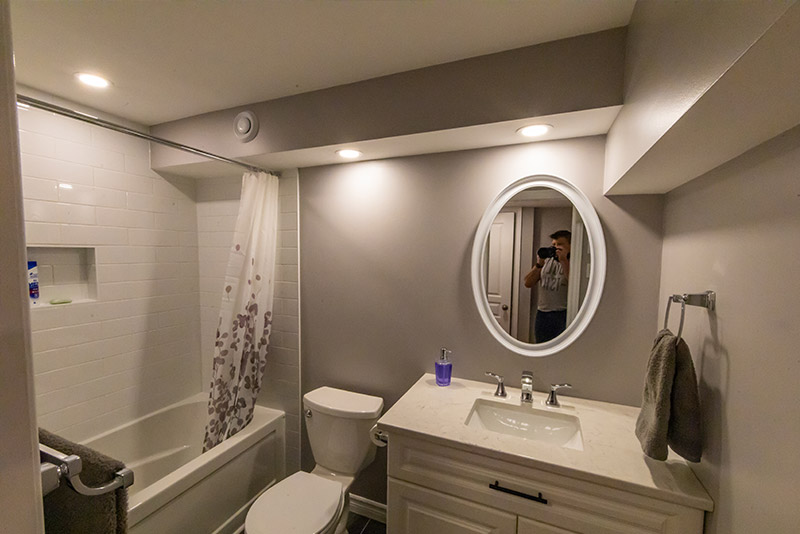 Add Clearance Beneath the Sink
A large vanity cabinet can make it difficult for people with mobility devices to access countertops and faucets. A wheelchair-accessible bathroom sink means that users can easily wash hands or reach other toiletries without having to risk safety.
Your bathroom renovation expert will be able to place under-sink storage in other areas of your space so you don't lose valuable places to store your toiletries and makeup.
Install Grab Bars
One of the greatest challenges for people with mobility issues is the risk of slipping and falling in the bathroom. Grab bars alleviate this concern by providing users with enhanced safety and making it easier to move from one point to another.
Grab bars can be installed anywhere in a bathroom based on need, with the most common places being in the shower and near the toilet.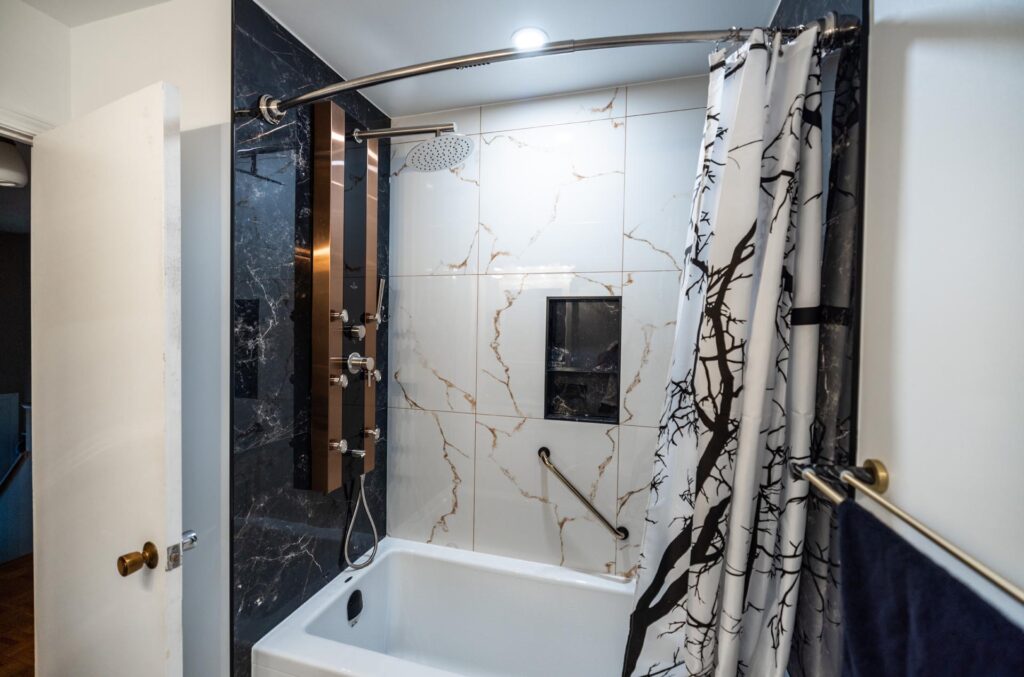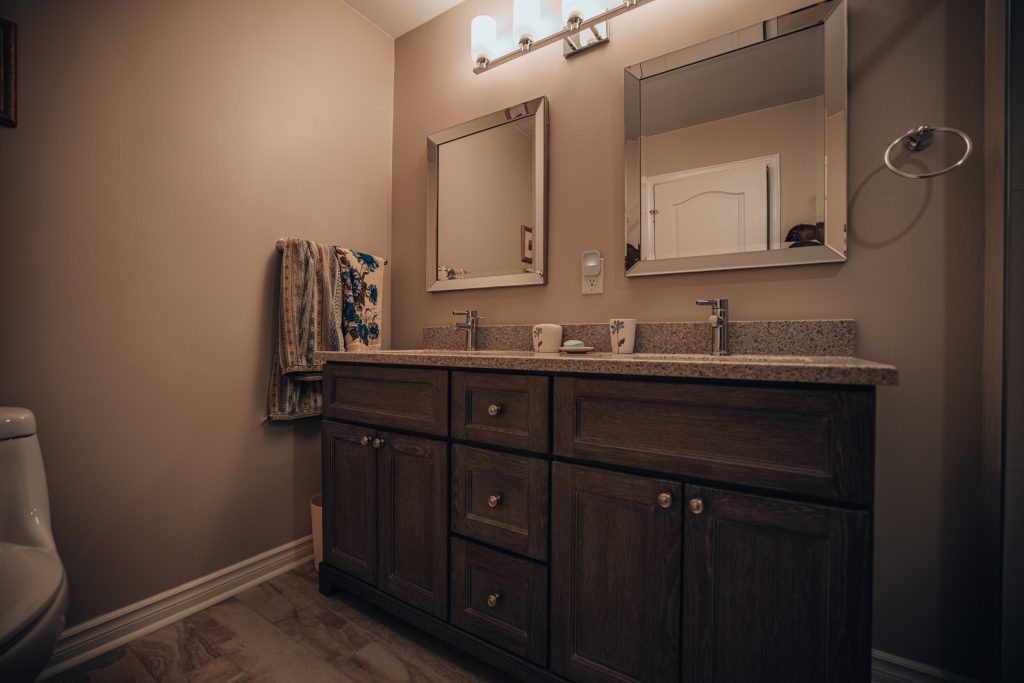 Automatic Lighting
Automatic lighting is one of the most practical, accessible bathroom ideas. Not only does it make it easier for people with mobility or other health issues to navigate the bathroom, but it is also a great feature for others who live in the home too.
Say goodbye to searching for a light switch or forgetting to turn off the lights when you are done.
Non-Slip Flooring
Another great accessible bathroom remodel idea is non-slip flooring. This also benefits everyone else in the home by reducing the risk of slips and falls.
Non-slip flooring or specially designed mats means people with mobility issues can move around the bathroom with ease even when the floor is wet.
Wheelchair Accessible Bathroom Design
These are just a few accessible bathroom design options that can reduce the risk of injury for people or guests in your home who have mobility issues. The team at Miracle Dream Homes can help you create an accessible bathroom that enhances safety, while also looking modern and stylish. The safety of your loved ones is important to us too, so we work to meet their specific mobility needs while being mindful of your budget. Contact our team today for a free consultation and receive a quote to get started making changes!