How to Make Your Basement Bathroom Renovation Bright and Fresh
The basement bathroom renovation and improvement are becoming much more popular these days as it allows you to experience the contemporary lifestyle. Renovating your home gives a modern look as well as it fulfills the needs of necessary structural changes required to keep your house secure.
These days, basement renovation is becoming very popular. You can choose to renovate the entire basement or only spruce up your bathroom or kitchen etc. However, Basement Bathroom Renovation is our main topic of concern.
Ideas for Basement Bathroom Renovation
You can renovate the basement bathroom using these different ideas. You can indulge luxury features in your basement bathroom renovation, equipped your basement bathroom installation with proper and modern lighting trends, using water resistant material, etc. The useful ideas for basement bathroom renovation are listed below.
Provide it with luxury features
Mostly it is considered that there is no need to make the basement bathroom as luxurious as the one upstairs. However, this is a wrong concept.
The basement bathroom should also be an elegant one. Adding a curved sink and stylish stone tiles of different sizes and shapes can add a luxury touch to the bathroom.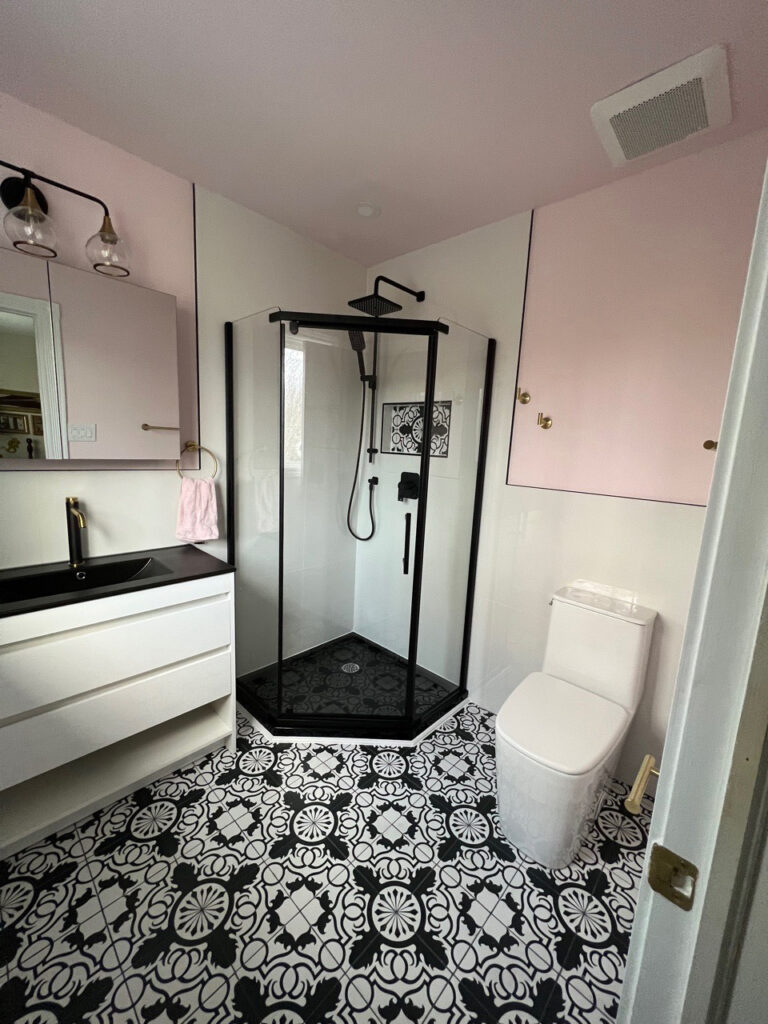 Use Colour to Extend the Space
Choose the right and proper color scheme for your basement bathroom renovation. Use a blend of light color tones as it makes the space appear bigger as compared to dark colors.
Cover the floors and walls with tiles of the checkerboard pattern. Choosing the right design and color scheme is the secret here.
Good Lighting
Real lighting is an essential feature to modernize the look everywhere in the basement but particularly so in the bathroom. Equip your bathroom with ceiling lights and place a full-size mirror in front of these lights.
The mirror will brighten the vanity and serve as a source of Ambient Lightning. Don't forget to use waterproof lenses for lighting fitting in the shower area.
Add a Classy Powder Room
If you are using the basement mainly as an entertainment place, then a powder room is all you need instead of spending the money on a complete bathroom. A powder room is a small area consisting of a basin and toilet.
A powder room can be fitted into a silver planetary and build a thin and slim vanity with tile installation and equipped with a bar size sink. Add striking materials to the walls of stone tiles and a fashionable basin with a gooseneck spout.
Use Water-Resistant Materials
Choose the materials for the bathroom renovation keeping in mind a blend of style and functionality.
Using stone tiles on walls and floors are undoubtedly is the best choice as stone tiles are resistant to water, long-lasting, and durable. Moreover, stone tiles are easy to clean.
Choose a fabric for a softer look
The uses of fabric on walls give a smooth and finished touch to the bathroom. Fabric delineated in embellished and attractive cording gives these bathroom walls a classy and sleek look. The powder room is an ideal applicant for furnished walls as it is easy to manage because of its small space.
Miracle Dream Homes suggests using these ideas for your basement bathroom renovation and embellish it with a stylish, trendy, and a classy look.
Draw the eye up
Basement bathroom ideas that inject much-needed light and brightness into a room are always popular. Drawing the eye up off the floor is important when it comes to creating a brighter feel. This is because basement bathrooms are traditionally smaller with less space to utilize.
The standard basement ceiling height is only 8-9 feet, and sometimes even less in older homes. Adding a patterned wallpaper or graphic tiles could bring something fresh to your basement bathroom designs.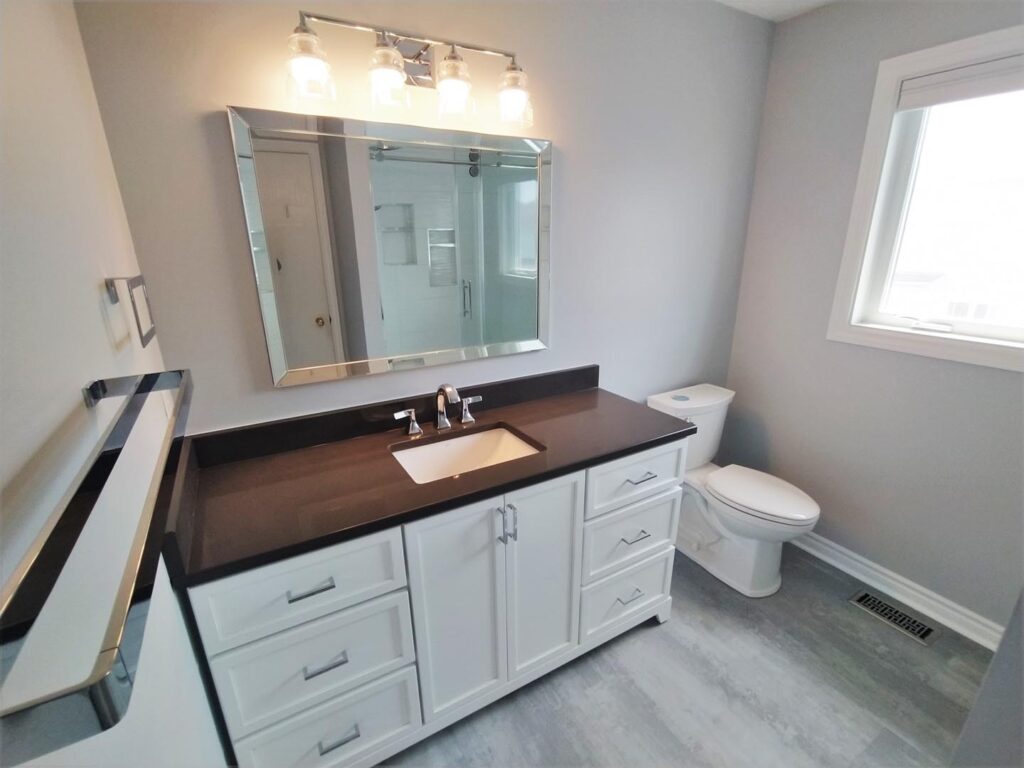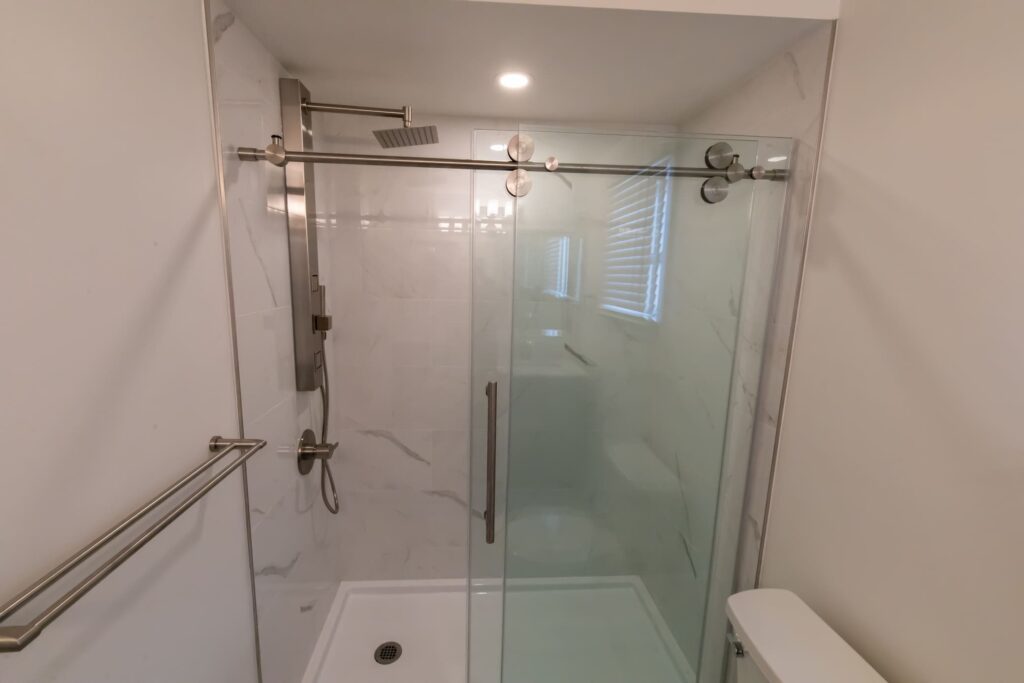 Add a glass shower
Installing a full glass shower is a great way to make the most of your basement bathroom layout – this is especially important when every square inch of space is valuable.
The transparency provided by the glass walls of the shower will open up the room, and actually trick the eye to believing the space is far brighter than it truly is.
Use light colours
A basement bathroom design that utilizes light colours is a great tactic to explore when trying to make a typically darker space look brighter. If you are dead set on incorporating some bold, darker colours – you can consider applying this to just one wall in the bathroom while opting for brighter colours for the remaining walls.
Experimenting with pastel colours combined with bold accent walls can be a fun avenue to explore to inject some liveliness while still moving away from that dark, dingy feeling.
Add a natural element
Adding a natural touch to your basement bathroom could also help with the dark, closed-off feeling basement bathrooms oftentimes present. Some basement bathrooms do not have a window and cause a feeling of withdrawal from the outside, making one feel closed off and uncomfortable.
Using wooden accents, or natural stone tile would deliver reconnection with the outside, in a place where one should feel relaxed and comfortable.
Add a feature wall
A popular trend that has emerged when it comes to basement bathroom designs is the addition of a feature wall. Bringing simplicity and minimalist style to your basement bathroom would be a way to open up the space with a monochromatic colour scheme.
Using one colour for it all, and then adding a mural or a piece of art as the feature wall could really bring your bathroom to another level. Using a simplistic style might even help with cleanliness and the overall brightness of the space.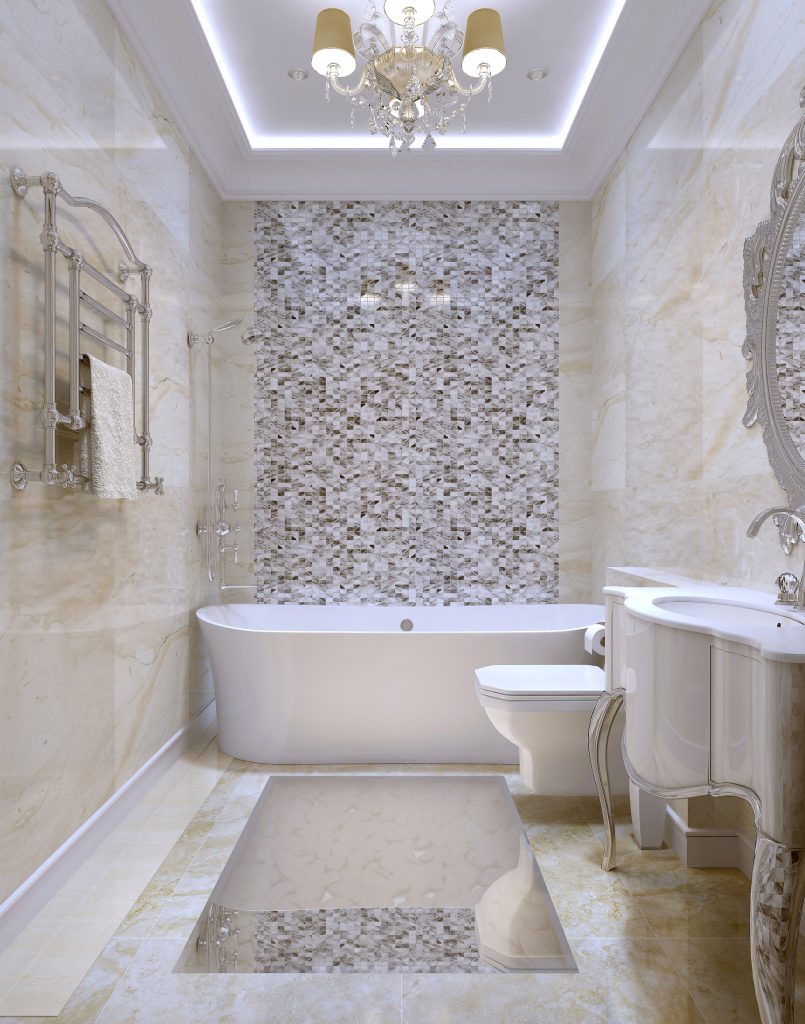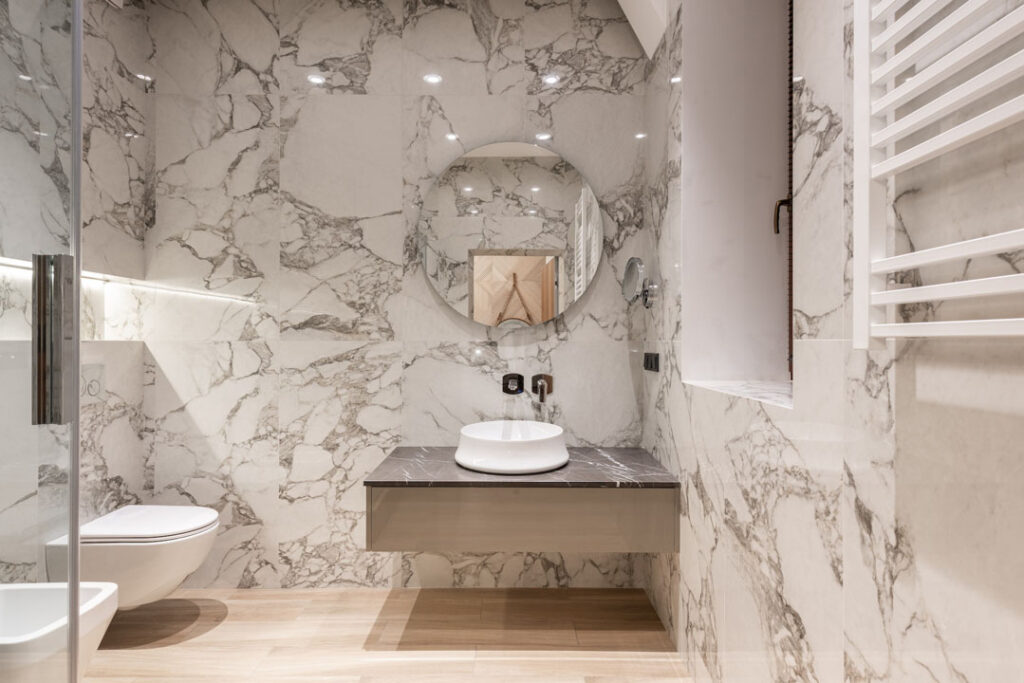 Add wallpaper
Bright coloured or patterned wallpaper; or accent tiles on a wall is another great option you can choose in order to brighten your space. Finding a rich-coloured, traditional patterned wallpaper is a good place to start, giving your basement bathroom design and layout a new layer of detail and something exciting to look at when it's being used.
The on-trend style of using an accent wall to bring new detail to your basement bathroom design can help with the general sophistication and overall brilliance of your space.
Small basement bathroom ideas that inject much-needed light and brightness are important aspects to consider when exploring options to transform a dark space. For more information on basement bathroom remodels or to schedule a no-pressure, free consultation, contact the experts at Miracle Dream Homes today.