In recent years, bathrooms have evolved from being purely functional spaces to oases of luxury and relaxation. Central to this transformation is the humble bathtub, which now graces bathrooms in myriad forms, meeting different preferences, and budgets. Let us delve into the captivating world of bathtubs, understanding the diverse types available, their use cases, pricing dynamics, and the championing brands in this domain. Something you can keep in mind during your next bathroom renovation project.
Standard Alcove Bathtubs
Use Cases: Ideal for small to medium-sized bathrooms, these bathtubs are designed to fit into a three-walled enclosure. It's a perfect choice for daily baths, offering a straightforward, functional design.
Pricing Options: These are generally cost-effective, with prices starting as low as $300.
Brands: Kohler and American Standard are renowned names offering a variety of alcove bathtubs.
Freestanding Bathtubs
Use Cases: These standalone tubs can be the centerpiece of your bathroom, bringing a touch of luxury and elegance. They offer more flexibility in placement and come in a variety of shapes, including oval, rectangular, and pedestal.
Pricing Options: The pricing for these starts around $1000 and can go up significantly based on the material and design intricacies.
Brands: Brands such as Jacuzzi and Ferdy lead in this segment, providing bathtubs with rich features and aesthetic appeal.
Clawfoot Bathtubs
Use Cases: If you are looking to instill a vintage and royal vibe to your bathroom, these are the go-to options. Their distinct clawed feet make a statement, transforming your bathroom into a timeless space.
Pricing Options: You can find these starting at around $1,200, with luxury models priced much higher.
Brands: Signature Hardware and Kingston Brass are reputed for their high-quality clawfoot bathtubs.
Walk-In Bathtubs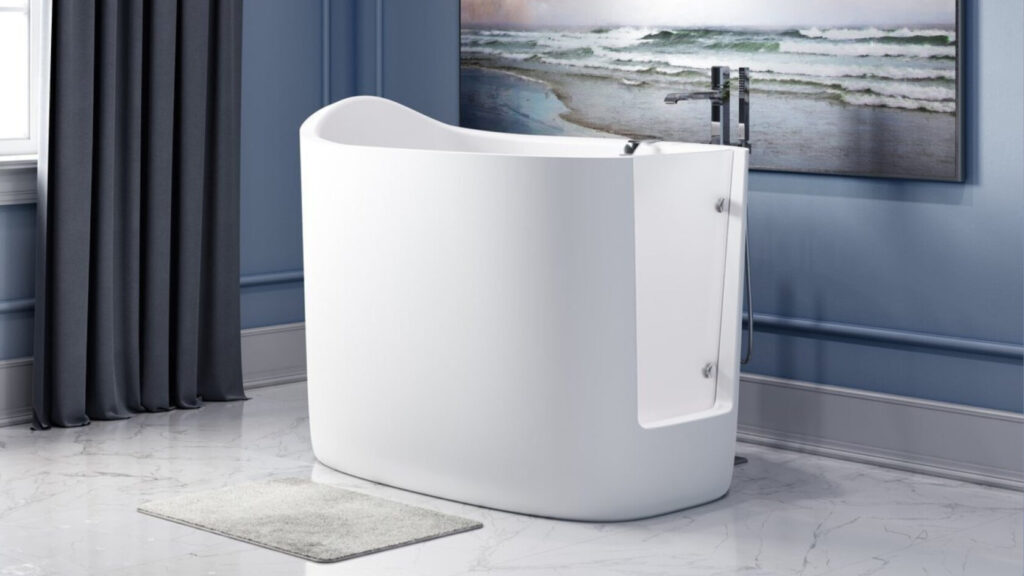 Use Cases: These are designed keeping in mind the elderly and individuals with mobility issues. The door on the side allows for easy entry and exit without the need to climb over the edge.
Pricing Options: Due to the additional safety features, these tend to be pricier, with prices starting at around $3,000.
Brands: Safe Step and American Standard offer reliable and safe options in this category.
Japanese Soaking Tubs
Use Cases: Deep and compact, these tubs are designed for full immersion, promoting a spa-like, Zen experience right at home. They can be a perfect choice for a relaxing soak after a long day.
Pricing Options: The pricing generally starts from $2,500, reaching upwards depending on the material and craftsmanship involved.
Brands: Diamond Spas and Aquatica are brands well-received for their Japanese soaking tubs.
Whirlpool and Air Tubs
Use Cases: Offering therapeutic benefits, these tubs come with jets to circulate water or air, providing a massaging effect. They are excellent for unwinding and soothing sore muscles.
Pricing Options: They have a broad price range starting at about $1,000 to $8,000 or more for high-end models with advanced features.
Brands: Kohler and Jacuzzi are market leaders offering various models catering to different preferences and budgets.
Choosing the perfect bathtub involves aligning your preferences, needs, and budget with the diverse options available in the market. It certainly adds to the complexity of your next bathroom renovation job. Whether you seek a daily convenient bath or a luxurious soaking experience, there is a bathtub out there crafted just for you. So embark on this journey of finding the perfect bathtub, a place where relaxation meets style, and every bath becomes a rejuvenating experience.