Our Bathroom Renovation Expertise Turns Your Bathroom into a Relaxing Oasis
Your bathroom is an integral part of the home. It's the place where you get ready for the day and unwind when the day is done. A lot of time is spent in the bathroom so it's important to make sure that the space is functional and looks great too. Bathroom renovations can range anywhere from a full renovation of the space to simply updating a few fixtures. When considering a bathroom renovation, it's important to create a plan so you can incorporate all the design elements you like.
At Miracle Dream Homes, we have been proudly serving the Ottawa region with high-quality bathroom renovations since 2004. We work closely with our clients to make sure we create the bathroom you have always dreamed of. If you have questions and are searching for "bathroom design in Ottawa", we have ideas to share that will inspire you and all the answers that will ensure that your bathroom renovation is planned and finished properly.
Discover the Benefits of Miracle Dream Homes for Your Bathroom Renovation in Ottawa
Are you looking to update or upgrade your bathroom in Ottawa? Miracle Dream Homes is a reliable bathroom renovation company in the Ottawa area. We offer an extensive range of products and services, from concept development to installation, ensuring that no detail is overlooked. A renovated bathroom not only adds value but also provides many other benefits. Let's explore some of the key reasons why MDH should be your go-to company for bathroom renovation in Ottawa:
Top-Quality Materials: Our bathroom products are sourced from dependable suppliers and crafted from durable materials that are designed to last a lifetime. We guarantee quality construction and reliable performance that will stand up to constant use and any natural wear and tear over time.
Experienced Team: Our specialized teams dedicated to bathroom renovations are hard-working, highly skilled full-time contractors, who have worked on hundreds of bathroom remodels to complex additions — making us one of the most experienced providers of bathroom renovations in all of Ottawa.
Seamless Installation: We understand how stressful renovating a bath or a portion of it can be — which is why we strive to make each experience as seamless as possible by providing timely project completion, excellent customer service, and professional installation from start to finish!
Cost Savings: Working with us means that you can enjoy cost savings through our secure relationships with high-end bathroom suppliers who provide us with top-quality materials at discounted prices. In addition to the discount perks, we share with our clients very useful tips, which we've collected through many years in the renovation industry, on how to select good quality products and design elements for the new bathroom that will allow you to get more value out of each dollar spent without cutting corners on quality craftsmanship.
Makeover Transformation: Working with a professional bathroom specialist means bringing your dream design vision into reality! With a wide variety of styles, configurations, colors, textures, and finishes, we create customized bathrooms that are sure to wow! Whether it's an ensuite bathroom, main bathroom, half bathroom, or something uniquely yours – as bathroom experts we help you transform your space into something extraordinary!

Discover the transformation possibilities today by reaching out to Miracle Dream Homes bathroom contractors for your next bathroom renovation project in Ottawa!
The Cost of Bathroom Renovations in Ottawa
The cost of a bathroom renovation can vary depending on the complexity of the project. We receive a lot of inquiries about quotes so we've dedicated a separate page to bathroom renovation costs alone. Visit our Pricing and Cost page here!
We provide a general outline of the costs involved in bathroom renovations, but once we see the space in person and discuss all of the details required, we can give you the most accurate estimate. The samples below can help you with planning your budget around your bathroom renovations in Ottawa.
Bathroom Remodel Ottawa
Bathroom remodeling in Ottawa is becoming increasingly popular as homeowners look to upgrade their homes and enjoy the many benefits that come with it. From increasing property value to providing luxurious amenities and modernizing the home, bathroom renovation can be a great way to spruce up your living space.
When considering your bathroom reno Ottawa, there are many things to consider. Knowing which materials and fixtures will work best in your space, understanding any local bylaws that may restrict what you can do, and setting a budget are all essential steps when beginning a bathroom remodel.
Additionally, consulting a professional contractor or interior designer can help to ensure that you get the most out of your bathroom remodel without breaking the bank. Whether it's adding some stylish tilework or replacing an old shower or tub, there are numerous ways to create a beautiful new bathroom for your home in Ottawa.
Bathroom Renovation Contractor
If you're on the hunt for "excellent bathroom renovations in Ottawa," it's important to find a contractor that is experienced in completing these types of renovations.
Good bathroom contractors like the ones at Miracle Dream Homes will provide the best advice on what materials and practices are needed to achieve the look you desire for your new space.
We will also have the most current knowledge of local building codes and will ensure that any work we do is done both safely and professionally. We are more than happy to provide references from past clients so that you can get a better idea of our high-caliber workmanship. Choose our team at Miracle Dream Homes so you can work with bathroom contractors you can count on.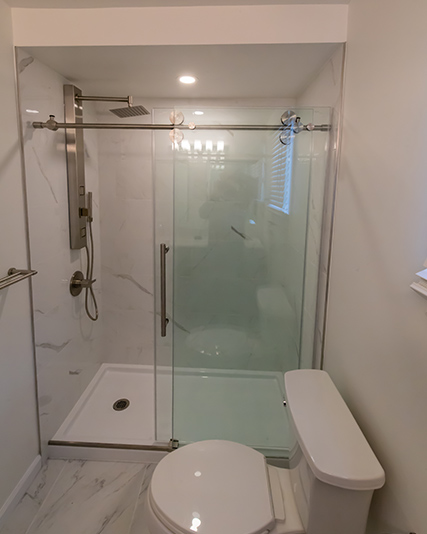 Tub to Shower Conversion
When you're looking to upgrade your bathroom, a tub-to-shower conversion is a simple way to transform this space. There are many benefits to this type of conversion from increasing accessibility for those with mobility issues to creating more space and adding modern convenience.
Before undertaking such a project, it's important to consider what size and shape of shower you would like in the converted space, as well as any plumbing or building code regulations that may be necessary. It's also important to take into account any unique features of your house that could impact the ease or difficulty of installation.
When you work with the right contractor from our team, you can have an attractive shower that meets your needs perfectly!
The MDH Process for Bathroom Renovations in Ottawa
Click on Steps 01 through 06 Below
Contact Us
This step should only take you 5-10 minutes. Fill out your information and choose the details of your project in our contact us form. Add a few pictures of your project if you have them, as this will greatly help us to provide the most accurate information to you.
At this point, you will receive a thank you email from MDH – this takes about 5 minutes to review. It will contain the information you provided us with, as well as links to videos we want you to review before we proceed to the next steps.
Get Your Insta Quote
Depending on the type of the project and its scope, in the next step you will receive a sample quote that would give you a fairly accurate idea of the cost and details of your project. Please review that and confirm with us if you would like to proceed to the next step.
Phone/Video Meeting
At this stage we will spend about an hour on the phone or video chat with you, we will answer all your questions regarding sample estimates, go over specific details of your project, and confirm all the costs and pricing with you. This will also allow you to meet us in the comfort of your home and see if we are a good match to work together.
Home Visit
This takes about 1-2 hours to complete. Further to the initial phone call/video call and after you have reviewed our paperwork, a home visit can be set up if you choose to proceed with the job. During this meeting, we will measure your bathroom, kitchen, or basement, review and sign off on the estimate, provide you with easy-to-follow instructions on product selection, and a list of products that you will need to choose for your specific project. We will give you all the right sizes you need and the required quantities. You will have a complete shopping list and a list of the preferred suppliers where you can choose your finished products and receive preferred special pricing on those products. You can be as involved in the process of selecting the finished products or as little as you choose. If you prefer to be less involved, we can pre-select products for you based on your requirement and you will simply confirm that selection.
Product Selection
We will supply all "rough materials" as part of our labor estimation. You do not need to bother yourself with buying every little screw and fastener. All plumbing, electrical, HVAC, tiling, framing, painting, carpentry, all rough materials will be supplied by us. We only use premium products and you can trust that we will not skimp on quality.
Finish materials: These are the products where we will need a little bit of your help for final selection. Since we all have different tastes and we all like different styles, we will leave the choice of finishing products up to you. After signing the estimate/project contract we will provide you with the detailed quantity and types of finished products you will need.
What are the finished products?
Your floor tiles, your wall tiles, your tub and shower bases, vanities, toilet, and mixing valves. Essentially, everything that you see and need to choose for your bathroom renovations in Ottawa. We will give you a list of preferred local suppliers where you can go to make your selections. We are always happy to pass on our contractor's discount to you.
More details will be provided during phone call and/or meeting.
Installation
Once all your finished materials are in stock, we will call to confirm your installation date. We usually book that date after you've signed up and started selecting your finished materials. It is usually tentatively booked, and we confirm that firm date a few days or a week prior to your installation. A lot depends on materials availability. If what you've selected is in stock, your installation can take place sooner. However, if some or all your selected products are on special order, we will need to wait for them to arrive before we can start installation.
Recent Bathroom Reno Projects
Here are some additional common questions about bathroom renovations that we get from our customers:
FAQ Left
Can I use my own plumber/electrician?
The short answer is no. We have a licensed, certified, and skilled plumber and an electrician who not only provide us with amazing pricing but are also a joy to work with. Their work is impeccable! The reason we prefer to work with our own crew is not to be difficult or restrictive, but rather, to ensure that we can stand behind our work with a warranty. We provide you with a 3-year warranty on our labor. For us to do that, we need to take control and ownership of the job site by entrusting our crew members who share our commitment to quality and customer satisfaction. Our goal is to deliver an exceptional bathroom renovation project experience from concept to completion, and for that, we need to be the "chef in the kitchen".
Well, sure, maybe, but why? It is very common for customers to think that a DIY demolition will reduce the cost significantly. It does not. Depending on the size and type of bathroom being renovated, a demolition can cost us between $200 to $500. It's not an area where you can make significant savings through a DIY effort. You can certainly get your hands dirty if that's what you'd like. However, if you are thinking about saving money, just tell us. We will try to work in some sort of a discount into your overall bathroom renovation project costs but still provide you with a full warranty and follow our standard process.
Can I finance my project?
Yes, we are affiliated with FinaceIt and we can provide the convenient option of low monthly or bi-weekly payments that are fully open and can be repaid at any time. Most of the customers who choose to finance their bathroom renovation project will either opt for low bi-weekly payments with long loan amortization but will not carry the loan to its full maturity. Instead, they use the loan as a bridge and when their mortgage is ready for renewal, they repay the loan converting it to a low-interest rate. Another option is payment deferrals for 3 to 9 months with zero interest. We post all new updates and promotions on our social media platforms, so feel free to follow us there for updates.
Most often, this depends on you. If all the materials you have selected are in stock and ready to go, we usually need 4-8 weeks before we can start. We do have a short notice waiting list too. Sometimes when a product is delayed and we have an opening, we can begin another project while we wait. Many of our customers have taken advantage of that and renovated their bathroom much sooner than expected.
FAQ Right
Do you provide a warranty?
Yes, we are proud of the work we do and stand behind our quality with a 3-year warranty on labour.
What is the payment schedule?
1) With the signed accepted estimate, the contract payment structure for bathrooms is as follows:
$500 deposit at the time of accepting the quote and 3 equal instalments for the balance when the work has started, in the middle, and at the completion.
2) For kitchen renovations, the initial $500 planning deposit is needed to develop the plans and the design for the exact kitchen quote (if a design and plans are needed). Paid after the home visit for initial consultation and measurements.
Once the quote is accepted, the order of cabinets require 50% deposit for materials, then 2 equal payments upon delivery and upon installation.
The rest of the labour costs, which is an estimate related to a general kitchen renovation work (other than cabinets order): like electrical, plumbing, drywall, tile etc., will have the initial planning deposit applied (credited) and the balance amount split into 3 equal payments paid when the work has started, in the middle, and at the completion
3) For basement finishing contracts, depending on the scope of the project, but normally the initial $500 planning deposit is needed to develop the plans and the design for the exact scope of work in the basement. Paid after the home visit for initial consultation and measurements.
Once the quote is accepted, the initial planning deposit is applied (credited) and the balance amount split into 3 equal payments paid when the work has started, in the middle, and at the completion.
Where are you located, and do you work in my area?
Our home-based offices are in Stittsville, Kanata, and Barrhaven and Ottawa. We prefer not to rent or own physical office space as this will add to the cost of running a business and in turn drive the overall cost of bathroom renovations higher for our clients. Our contractors live across Ottawa, some in Stittsville, Nepean, Barrhaven, Kanata, and on the east end of Ottawa in Orleans.
We service the entire Ottawa region. We have done bathroom, basement and kitchen renovation jobs in Carleton Place and Ashton, Arnprior, Stittsville, Kanata, Ottawa itself, and on the east end in Orleans, Rockland, and Cumberland.
How long will a bathroom renovation project take?
It's difficult to provide accurate timelines, but here are some estimates to give you an idea:
2-piece powder room with tile will take under one week.
3-piece bathroom with tile is likely to be completed in under two weeks.
4-piece bathroom with tile shower and tub is usually done in under three weeks.
These are general guidelines—please discuss your project with us for specifics that will apply to you.
We hope we were able to answer your questions on this page. If we have missed something, don't hesitate to reach out to us with your questions using the form below. We will be glad to spend 10-15 minutes on the phone and provide you with information that is specific to your bathroom renovation project in Ottawa.
Recent Bathroom Renovation Blog Posts
When it comes to making over your bathroom, it's not just about choosing the right tiles, the perfect tub, or that dreamy shade of teal you've had your eye on. Arguably, the most crucial decision is picking a trustworthy bathroom renovation contractor. But how do you sift through the countless options out there? Well, pour…